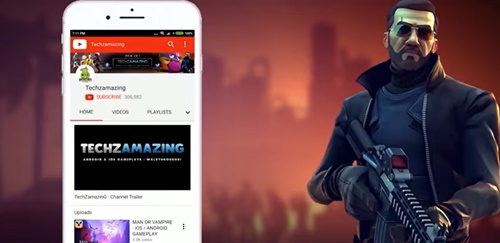 Hi there!
Hope you enjoy 3uTools with its tremendous facilities.
So today we're gonna give you another interesting facility that you can get from this tool for free.
Previously we have introduced you several topics that related with this tool as well as its services.
This will give you a great sense about top 10 best games that you can play on your iPhone/iPad .
All games you can download and install on your device using 3uTools.
So let's swim over the ocean with our hand.
Best Mobile Games In 2021 From 3uTools
Following games are the best mobile games that you can play on your iPhone/iPad for free.
Please read all about those games.
We have almost passed half of this year 2021 amidst a global pandemic.
Have you ever wondered how to relieve the stress and tension you undergo as you are kept locked at your homes in such a tough period of time?
Gaming has always been a top-ranking mode of relaxing and today in this article we are going to count down the top 10 mobile game picks that reign the mobile gaming world in 2021.
10 Apex Legend Mobile
If you are obsessed with PUBG,
you will find quite a lot of similarities in this game.
This is a battle royal game that needs to be played online like PUBG and call of duty.
Developers of Apex legend have equipped this game with a high quality graphics, which equates to PUBG quality.
16 different legends with 16 different superpowers might surely make you fall in love with this game.
9 Boom Kart
Boom Kart is another online-playable multiplayer vehicle racing game.
While competing all you have to do is battle with other players to secure your spot.
As you proceed through the game and collect sufficient blueprints, you can customize your vehicles and your location.
Under the customized game option, you can invite your players to compete with you.
Accelerate your vehicle by pressing the left paddle and not to get your car to collide with obstacles, stay vigilant as there is no break paddle to halt your vehicle. You have been warned.
8 Off-road chronicles
Are you an off-road vehicle driving maniac?
If yes, this is might be your go-to game.
In this truck simulator game, the player has a vibrant opportunity to get a first-hand off-road driving experience on different hash snow-filled roads in Russia.
While being behind the wheels of either log-filled trucks or cars player has to reach the desired destination overcoming all the obstacles on his way.
7 Cat killer
Help a poor bunny to save his home from the attacks of cats.
As the evil-doing god awakes from his deep sleep sends a swamp of minions to wreak havoc all around.
Destroy these minions using your weapon, collect the latest weapons and gain the batch of the world's best cat killers.
6 Comics Bob
In this game, you get to help a damsel in distress by solving puzzles.
But you are not alone, the player always can turn to a caveman in this game if he needs to select the best option out of two that this game provides you in each level.
When selecting the best option player has to analyze the out environment to come up with the best solution.
If you fail to pick up the best solution, you have to repeat the same process until you succeed.
5 Bridge constructor :TWD
Inspired by the walking dead TV series and post-zombie apocalypse world,
In bridge constructor you have to save your life from the remaining zombies,
While teaming up with characters like Eugene and Daryl,
Using explosives and deadly traps. As the name suggests, in this game,
Players have to build unbreakable bridges to save a life, using their basic physics knowledge.
4 Lumen
This awesome mobile game brings players to their middle school physics lessons memories.
In Lumen players find themselves in a middle of a century-old secret chamber that is filled with light-reflecting antique goods.
Using the basic optic physics theories player has to solve each level to succeed to the next level.
The developers of this game, Lykke Studios, have allowed you to download this game from Apple Arcade.
3 Epic Raft: Fighting Zombie Shark Survival
When your ship is wrecked, you have to make a raft out of ship wreckage debris.
While you are left stranded in the middle of an ocean filled with full of dangers,
Apart from finding food for your survival, you have to face zombies,
Mutated crabs, and sharks that are waiting there to destroy your raft and rob your food. Build your new stranded life from the scratch or die.
2 Battle of Polytopia
Battle of Polytopia is a building and battle game.
This 4x turn-based game is quite similar to games like Civilization.
The first player has to choose one side, more specifically a tribe out of 16, and a gaming mode out of two modes.
In this game, the player has to build civilizations from the starch. Payer can choose the maps of this game out of both autogenerated or configured maps.
In the updated version of Battle of Polytopia, you may preview your battles.
1 Stardew Valley
In this RPG(Role Playing Game) game,
The protagonist,
Being the heirloom to his grandpa's farm located in Stardew Valley,player has to turn this plot of land into an arable and flourishing farm using his old farm tools while improving his farming skills.
A player may invite another player during this exercise.
As the player proceeds through this game he will encounter caves filled with mysterious creatures, gems, and materials are required for him to enhance his farm and tie the knot with one out of 12 bachelorettes.
Surely you are free to play all those games indeed.
So why you are still awaiting ?
Please join with 3uTools and download with a single click.
Read More Articles
Conclusion
3uTools is the best place to download your favorite games for free.
This tool also available for free.
So Please download this tool and enjoy with your iDevice.