3uTools iOS now available with easy installation.
3uTools team has designed it's iOS version to install on iPhones/iPads .
So this is a big step for iDevice users indeed.
Now all iPhone/iPad users can directly install 3uTools on their devices through 3uTools Windows.
First of all we must mention that this version is not available some regions of world.
But we have the path that you need to know how to install this version.
Please try this and check what happens.
If you fail installation this version , do not let it to go and keep touch till we give you the way.
3uTools iOS Requirements
Where we should remember on our 3uTools users that all regions are not allowed to 3uTools iOS.
Therefore this process you can't complete if you are in a region that 3uTools iOS not allowed.
But we promise you will be able to do this in near future with a trusted way.
Till it comes be patient and keep touch.
Windows running PC
iDevice (iPhone/iPad)
USB Cable
Wi-Fi connection
If you have above basic requirements, you will able to go through this process.
3uTools iOS Installation
So This is a very simple process.
First make sure that your Windows running PC already installed 3uTools.
If so not please follow our 3uTools Latest Versions Download educational guide.
3uTools Windows Installation
After downloaded click the downloaded file to start the installation process.
Make a tick to accept 3uTools EULA & Privacy policy terms.
Then click Install button.
Wait till the installation completed. Then click Launch button
3uTools iOS Installation
So now use your USB cable to connect your device to PC.
Launch 3uTools.
After your 3uTools detected your device click 3uTools icon which exist as follow.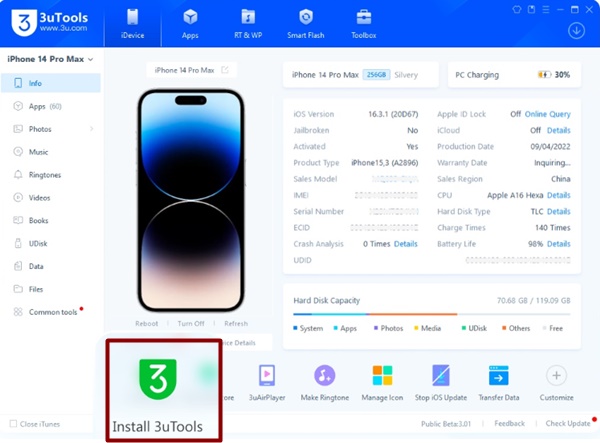 Now 3uTools iOS will be installed on your iDevice.
After you finished the installation , please safely remove your device from your device.
3uTools iOS Features
So with this 3uTools version you can experience a tremendous advantages as follow.
You don't need to connect your iDevice to your PC to use 3uTools indeed.
Direct download and install apps and games
Stop iOS updating
Download latest iOS Firmware
Clean garbage of your device directly
Icon manage
So you can apply very large range of features with this amazing tools such as iOS jailbreak, Wall papers download, Making Ringing Tones, etc.
Moreover we do hope to provide you the entire features with our educational guide and we would like to keep our special thank on 3uTools team for this amazing innovation.
Conclusion
Moreover this version of 3uTools version now available with fascinating features and services.
So now all iPhone users can install this version on their devices for free.
Then users can use 3uTools on their devices without connecting to PC.