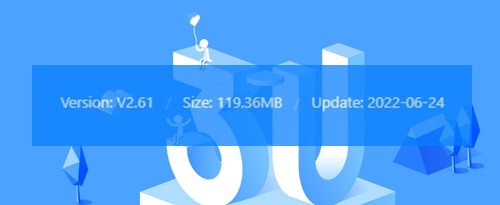 3uTools has been released it's V 2.61 latest version on public on 24.06.2022.
This is the latest version of 3uTools which released yet.
Some important features have been upgraded with V 2.61.
So this will help you to figure it out.
Previous 3uTools version was V 2.60.
After few months they have been released it's V 2.61 with newly added updates.
| | |
| --- | --- |
| Name Of Tool | 3uTools |
| Version | V2.61 |
| Size | 119.36MB/120MB |
| Updated Date | 24.06.2022 |
Where we would like to give you the details of 3uTools previous version V2.60 too.
| | |
| --- | --- |
| Name Of Tool | 3uTools |
| Version | V2.60 |
| Size | 119.20MB |
| Updated Data | 08.04.2022 |
When you compare these two major updates you can check that 3uTools has been updated within two months.
This is a good sign of a well functioning tool.
If any tool or application is regularly updating with newly added features as well as previous bug fixings ,that's mean the application/tool is safe to use.

3uTools V 2.61 Newly Added Features
3uTools team has been added some important changes with V 2.61.
Among those upgraded sides below are important.
Easy flash has been optimized.
Updated security features.
Previously detected bugs have been fixed.
Upgraded performances.
So we invite you guys to download the latest version and experience more other newly added features and other useful sides that you can use to manage your iDevice.
Moreover this tool is still available with well performed status.
Therefore users can manipulate this tool to manage your device.
How To Download/Update 3uTools Latest Version V 2.61
This is very easy to done.
Please follow the steps if you are not familiar yet.
Step 01:Download the 3uTools V 2.61 installation Package.
Step 02:After you completed the downloading , please open the downloaded package on your PC.
Step 03:Now hit the Install.
Step 04:Once you hit the Install , be patient till it finished it's installation.
Step 05:After the installation process become finished, click Launch.
Conclusion
Now all 3uTools users can upgrade their current version to the latest version V2.61.
This is a free process.
So all users can easily done this without any hand.
Please share your experience with us and keep your touch on us to get know about the next update of 3uTools.
Thank You !