3uTools has been released it's latest great version V2.63 on public with some newly added features.
So we sure that they will add some advance and useful features on 3uTools V2.64 too.
But we can't guess that when will be released 3uTools V2.64 for the public yet.
However it will not be a long time period when we compare with the previous versions.
So today we're gonna show you some important review with a reminder that you can do with 3uTools.
3uTools V2.64 Release Day & Latest News
As we previously mentioned that 3uTools V2.64 releasing day not confirmed yet.
So you have to wait for the signal and keep touch with us to get all the stuffs which releasing with 3uTools V2.64.
Apple has been released iOS 16 on public.
So we do hope to give you a full descriptive tutorial guide about iOS 16 as well as how to manage iOS 16 with 3uTools.
Until we will back with iOS 16 please wait with 3uTools.
With iPhone 14 releasing, 3uTools provides a great service to the iPhone 14 users to manage their devices for free.
Thus we sure 3uTools will give you a great opportunity to manage iOS 16 too.
How To Update iOS 16 with 3uTools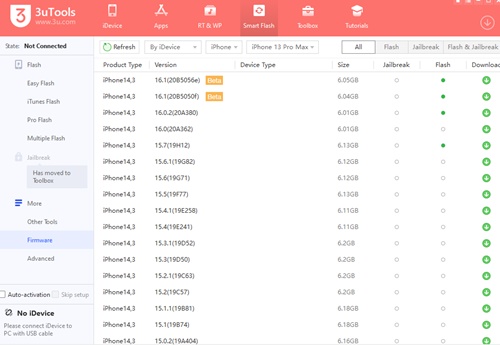 Its a great pleasure to say that 3uTools offers on iDevice users to update their current iOS versions to the latest firmware very easily.
So follow our complete tutorial guides to do this by yourself.
First of all you should know that what are the needed resources to do this on your iDevice.
Requirements For iOS 16 Update
A Windows Running PC.
An USB cable.
Once you get those needed things please launch 3uTools on your Windows running PC.
Then connect your iDevice to the PC using an USB cable.
Now your device info will display on the launched 3uTools.
Then navigate Smart Flash>>Firmware.
Then you can select available iOS 16 versions including it's beta too.
Where you will see all details about the iOS 16.
How to download iOS 16 using 3uTools ?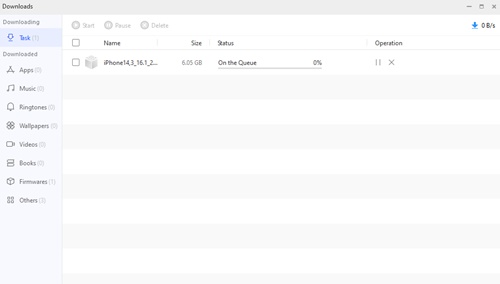 Simply click green color down arrow.
Then the firmware will be started to download.
Please read our Smart Flash complete tutorial guide to get your rest of information for free.
Conclusion
Apple has been released iOS 16 as well as iPhone 14.
So now you can manage that iOS 16 running iPhone 14 using 3uTools indeed.
Please keep touch with us to get your latest 3uTools news.